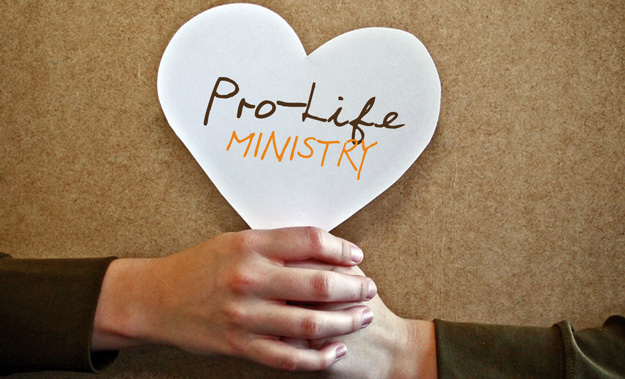 Right to Life Ministry
by: Web Editor mq 07/03/15 06:31am
by: Web Editor mq
~~SEAS Right to Life Ministry
St. Elizabeth Ann Seton's Right to Life Ministry advocates the cause for life and promotes the Church's theological truth that all human life, at all stages, is sacred, from the moment of conception to the moment of natural death. As such, the issues that our Right to Life Ministry deals with can range from abortion and contraception, to family issues, to euthanasia, and to the help of healing of those who have been involved in or have been touched by abortion. One of our primary focuses is on ending abortion through prayer, education, and action because this sin alone has done more to destroy our nation and world than anything else in history.
Our Right to Life Ministry welcomes you to join in helping the cause for Life in a variety of ways. Here are ways that you can help:
• Prayer is of primary importance and we ask all to pray daily for the end of abortion and for the triumph of the Culture of Life over the Culture of Death. The daily Rosary and the Chaplet of Divine Mercy are especially powerful prayers for the cause for Life.
• Support Life through your right to Vote! Follow the moral teachings of our Church in choosing our next leaders and laws whenever you place your vote. Vote for Life!
• Become a Right to Life Member! We welcome you to come to our monthly Right to Life Meetings to see what you can do to truly be a disciple in the cause for Life. We have meetings in both English and Spanish. Our meetings in English are usually on the 2nd Thursday of each month at 7:45 pm (after the 7pm Mass) in the Pastoral Office. Our meetings in Spanish are usually on the 4th Wednesday of each month at 7:00 pm in Room 3 of Avila Hall.
• Join us for our Hour of Prayer at the Abortion Clinic services twice a month, usually on the 2nd and 4th Fridays, at 10:00 am in front of the Family Planning Clinic at 5050 Palo Verde St. in Montclair, where we sing and we pray the Life Rosary, the Chaplet of Divine Mercy, and the Rosary of the Holy Wounds of Our Lord Jesus Christ.
• Please join us in our Patriotic Rosary on the 1st Tuesday of every month, immediately following the 7:00 pm Mass in our Chapel, at approximately 7:35 to 7:45 pm, where we pray for conversion of our nation, our leaders, and all of our countrymen in every state.
• Come be inspired at our free annual bilingual Respect Life Seminar on the first Saturday of October every year. At this event we feature compelling Pro-life speakers and a free luncheon which will nourish you in both body and spirit.
• Join us also as we support Life by walking in the various walks for life throughout the year. We support the following walks for life: OneLifeLA: Los Angeles Walk for Life in January; Walk for Life: San Francisco in January; Assure Pregnancy Clinic Walk for Life in the Spring; Choices Women's Walk for Life in Winter/Spring.
• Sign-up to receive SEAS Right to Life Ministry Pro-Life/Pro-Family emails and be informed on upcoming events of our parish's Right to Life Ministry and other Pro-Life area and national events. To sign-up contact Maria Pimentel at mariatpimentel@msn.com or 909-673-0720.

For more information on SEAS Right to Life Ministry or to participate in any of our events, for English, please contact Maria Pimentel, SEAS Right to Life Coordinator, at mariatpimentel@msn.com or 909-673-0720. For Spanish, please contact Leticia Reynoso, SEAS Right to Life Spanish Subcommittee Coordinator at 323-747-0388.